This article is intended for those who have a standalone email account ending in something like @gmail.com or @hotmail.com who would like to migrate their saved emails from their old IMail-based email account to their new account.
NOTE: If your email address is on a parish or organization domain name (ex. [email protected]) and you are now using either Microsoft Office for Nonprofits or Google G Suite for Nonprofits to host your parish domain, your domain administrator will be able to migrate your saved email messages for you using one of the built-in migration tools for those systems.
Office 365 Migration: https://docs.microsoft.com/en-us/exchange/mailbox-migration/migrating-imap-mailboxes/migrating-imap-mailboxes
G Suite Migration: https://support.google.com/a/answer/6003169?hl=en
Okay, let's get started!
Getting the Correct Mail Software
To get started, you will need to use a program on your computer that is capable of connecting to multiple IMAP-based email accounts, such as Apple Mail (built-in program for Mac OS computers) or Mozilla Thunderbird (available on Mac OS, Windows, and Linux based systems)
To download Mozilla Thunderbird, please visit https://www.thunderbird.net and follow the listed instructions and installation procedure.
Setting up Email Accounts
Next, you will need to add both your old account and new account to your mail client. General instructions for adding accounts can be found at the following links:
Apple Mail: https://support.apple.com/en-us/HT204093
Mozilla Thunderbird: https://support.mozilla.org/en-US/kb/manual-account-configuration
Connect to your old IMail account with a POP3 connection:
You will want to use the following specific server settings for connecting to your IMail account: https://support.goarch.org/-/imail-pop-connection-setup
Please make certain that you use POP3 to connect to your old email account.
Connect to your new email account with an IMAP connection:
For Gmail accounts, you will want to ensure IMAP access is enabled. In Settings -> Forwarding and POP/IMAP, under IMAP Access, choose Enable IMAP.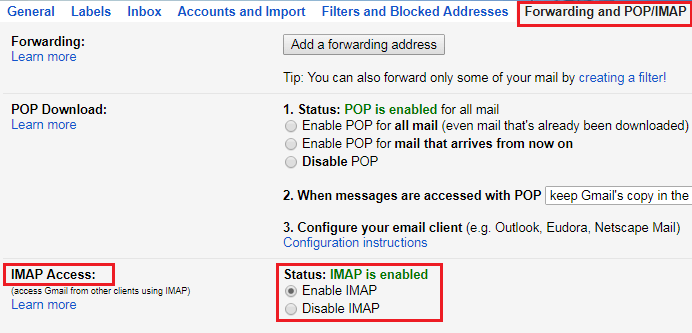 Once that setting is enabled, add your new email account to Thunderbird or Apple Mail using an IMAP account. It is essential that you use IMAP for your new account.
Setting up Folders
Once both accounts are set up, and before you copy mail from your IMail account to your new account, you'll want to make sure your new account has all of the same sub-folders as your old account. If you do not have any sub-folders in your IMail account, you can skip this step. For all folders besides the Inbox, Sent, Trash, and Spam (all of which are standard across email accounts), you will want to create new folders within your new account. Gmail accounts use "Labels" instead of "Folders", so Gmail users will want to create new labels to correspond with their old folders
Here are some useful articles for how to create new folders or labels in your new email account:
https://setapp.com/how-to/how-to-create-folders-in-gmail
https://support.mozilla.org/en-US/kb/thunderbird-and-gmail#w_understanding-gmail-labels-and-thunderbird-folders
Migrating Mail
Now, you are ready to migrate your email. You should proceed one folder at a time: Inbox, Sent, Other Folders. In each folder on your IMail account, highlight the messages you want to migrate, then right clicking and selecting "Copy to" after which a list of all of the folders across all of your email accounts will appear. Be sure to click the corresponding folder within your NEW account.
Depending on how many messages you selected, this may take a few seconds or several minutes. If you chose to copy hundreds of messages at a time, the process may take even longer. Please give your computer time to process each request before moving on to the next batch of messages.
To monitor the progress of your migration, be sure the Activity window is open within your mail program:
Apple Mail: https://support.apple.com/guide/mail/view-mail-activity-mlhlp1099/mac
Thunderbird: https://developer.mozilla.org/en-US/docs/Mozilla/Thunderbird/Activity_Manager
Periodically, you can log into your new email account through its web interface in your web browser (ex. Google Chrome, Apple Safari, Mozilla Firefox, Microsoft Edge, etc.) to view the progress of your email migration and confirm that messages have been migrated.
Migrating your Contacts from IMail to Gmail
Login to your imail account at https://imail.goarch.org
Click Contacts under Address Books

Click the Export Contacts button in the Toolbar

Choose IMail comma-separated values and then click Export Contacts

Click the Import Button in the left column

Click 'Select file' and choose the CSV file which you downloaded in Step 3.
Click Import